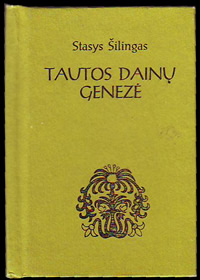 Genesis of a Nation's Songs
by Stasys Silingas
Translated by Svaja Vansauskas Worthington

Introduction by Albinas Vaiciunas, Publisher

Although Stasys Silingas possessed apparent creative talent, it took a while for it to bear fruit because during all his active years he dedicated his efforts to creating and strengthening Independent Lithuania.

Born in 1885 on November 11, he inherited a Baron's title from his parents. In Vilnius in 1905 he finished high school. In Moscow he studied Jurisprudence. He learned the Lithuanian language to perfection. At the university he was elected president of the Lithuanian Student Union. He sent his correspondences to the "Lithuanian News" newspaper and translated Polish and Russian authors' works. His efforts in 1910 resulted in publication of the newspaper "Ausrine" for students and scholars. At first he was the only publisher and editor of this periodical.

Finishing his Justice studies in 1912, he returned to Lithuania, and all of his free time was devoted to the publication of "Ausrine" and to public works. In 1914 he prepared and the following year published "Part One" of an almanac [anthology] of the works of Lithuanian writers. In this publication he compiled the most talented writers of that time: Kazi Binki, Bali Sruoga, Vinca Kreve, Antana Vienuoli, Sofija Kymantaite-Ciurlioniene, Igna Seiniu, Adoma Lasta and others. And in this almanac was published his most interesting and most artistic creation "Genesis of Nation's Songs."

Before World War I, in Vilnius he established the Ciurlionis Association for the purpose of purchasing and preserving artists' paintings. It was possible to enact this idea of his only after Lithuanians had achieved an independent nation.

When the German army approached Vilnius, Stasys Silingas and his family withdrew in the summer of 1915 to Petersburg, where as much as he could he concerned himself with the relief of Lithuanian war refugees, paying special attention to creative youth—painters, writers, teachers. He managed to gather funds for the establishment of a Lithuanian high school at Voronezh.

In Petersburg in 1915 he published "Liberty's Officer," a newspaper for Lithuanian soldiers. Once a democratic nation's freedom unity party was established, he became one of the founders, besides being the publisher, of the weekly [periodical] "Santara."

In Kaunas after founding the Artists' Society, Silingas was elected to the Literary Section Board and likewise as a board member of "Art" magazine.

In fulfilling his duties at the high State Presidential Council and the Justice Ministry, Stasys Silingas founded with other artists the Kaunas Art School and the M. K. Ciurlionis Gallery. While on the Art Committee Board, he concerned himself with collecting folk art.

On his farm in Misiunai, he had accumulated a collection of more than 100 works of art, and he himself played musical instruments and encouraged and supported Lithuanian artists.

When Lithuania was occupied by the Bolsheviks on June 14, 1941, together with his wife Emilija and daughter Raminta, Stasys Silingas was exiled from Misiunai; he was separated from his family, deported to a prison, and later sentenced. He was freed from imprisonment in 1953, but in no time he was sent to Ukraine, Zitomiro province, to an Old People's Psychiatric Home for the mentally ill. And not until Fall of 1961 after twenty and one-half years of prison and exile was Stasys Silingas allowed to return to Lithuania. He lived in Kelme with his wife's sister dying just a year later on November 13—the harrowed heart of a nation's luminary and martyr had stopped beating.
The Path of Eternal Life

Illustrated with the paintings of M.K. Ciurlionis (1875 - 1911) http://ciurlionis.licejus.lt/

List of Illustrations/Paintings by M.K. Ciurlionis:

For "Night": "Funeral Symphony IV" (1903), "The Altar" (1909), "Morning Fantasy(1904)

For "Morning": "Creation of the World IV" (1905-06), "The Flood IV" (1904-05), "Summer II" (1907-08)

For "Fall": "The Zodiac. Virgo" (1907), "Fairy-Tale. Journey of the Princess III" (1907), "Winter I" (1906-07), "Summer III" (1907-08)

For "Life's Path": "My Road III" (1907), "Zodiac, Gemini" (1907), "Prelude" (1908), "Castle, Fairy-Tale" (1909), "Creation of the World XI" (1905-06), "Preludes and Fugues, The City Prelude" (1908-09)

For "Life's Beginning": "Day and Night, The Day" (1904-05), "Composition. Fantasy" (detail) (1905), "Winter IV" (1906-07), "Friendship" (1907)

For "Secret of Existence": "Fairly-Tale. Journey of the Princess II" (1907), "Sonata of the Sun. Allegro" (1907), "The King's Fairy-Tale" (1909)

This website was constructed with the assistance of Caroline Rich, Professor of Journalism at the University of Alaska, Anchorage, and Terry Patterson, Multimedia Design Specialist, Educational Media Services, University of Alaska, Anchorage.